Counsellor Information
New Bursary Alert!
Please check the following website for details and application information for a new bursary.
http://www.boscofoundation.com/bursaries
12 Bursaries: 
$30,000.00 dollars annually.
$ 5,000.00 x 3
$ 3,000.00 x 3
$ 1,000.00 x 6
SCHOLARSHIPS!
Please come check out the bulletin board in Student Services for new scholarship information! Posters will be put up as they arrive.
CANNABIS INFORMATION SHEET FOR PARENTS!
https://www.albertahealthservices.ca/assets/info/pf/if-pf-drugsafe-cannabis-parents-caregivers.pdf
CREDIT CHECK - Do YOU have your MY PASS account?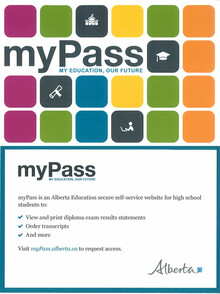 Students - make sure you have your My Pass account set up, especially our Grade 12 students. You will be able to view your diploma exam marks in your My Pass Account mid-February.
It's also important for all grade 10-12 students to monitor credits and course enrollments to ensure there are no errors.
To set up your account, all you need is your Alberta Student Number and a personal email address (not your school email address). Stop in at the office to get your ASN.
Visit: https://public.education.alberta.ca/PASI/myPass/welcome
Click on "Sign in with Education Account"
Enter your personal email address, and click "I'm new sign me up"
Fill out the remaining information. A PIN Access code will be mailed to you in about a week to allow you to complete the login process. Parents can create an account for themselves the exact same way.
If you need help with this, you are welcome to stop in at the office and we can help you set this up.
SCHOLARSHIPS!
PLACES TO LOOK:
Alis.alberta.ca/scholarships
 www.ScholarTree.com
www.studentawards.com
   Company websites
Bank Websites
Parents`Work
scholarshipscanada.com
Post-Secondary Institution Financial Awards Office
St. André Bessette Awards Program (Spring 2019)
Rutherford Scholarship (Aug.1)
The 2018-19 Alexander Rutherford High School Achievement Scholarship application will be shut down for annual maintenance on Friday, April 26, 2019.Here are some key points you can provide to students:Any 'Work in Progress' applications students have not submitted to Student Aid will be deleted from the system on Friday, April 26. Students will be able to log into their existing Alberta Student Aid accounts in early August to apply online for the new 2019-20 Alexander Rutherford High School Achievement Scholarship.The Rutherford Scholarship application was previously made available in early June, however Alberta Scholarships and Awards has aligned all application cycles to August 1.  
RAP and Trades
Tips:
https://www.macleans.ca/education/six-secrets-to-winning-scholarships/
Math 30-1 Diploma Prep
To sign up for Diploma Prep Sessions, please see the link below:
High School Math Courses Explained!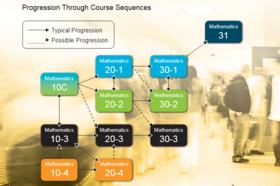 Math 10C is Math Common. This is the Math course that is required for Math 20-1 and 20-2.  Both are UNIVERSITY LEVEL MATH COURSES.
Take Math 20-1 if you are interested in:
Math
Science
Medicine
Engineering
Business
Kinesiology
Take Math 20-2 if you are interested in:
Arts
Nursing
Fine Arts
Education
Physical Education
Take Math 20-3 if you are interested in:
Most Certificate programs
Most Diploma programs
Trade programs
You have 5 other courses to submit to a Degree program for admission