Counsellor Information
CREDIT CHECK - Do YOU have your MY PASS account?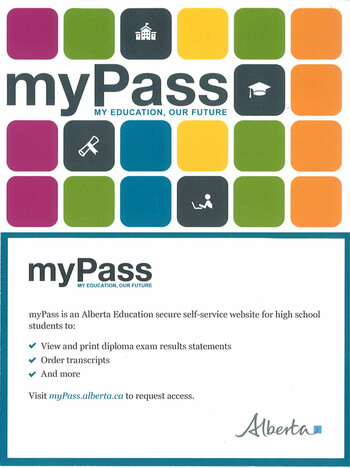 Students - make sure you have your My Pass account set up, especially our Grade 12 students. You will be able to view your diploma exam marks in your My Pass Account mid-February.
It's also important for all grade 10-12 students to monitor credits and course enrollments to ensure there are no errors.
To set up your account, all you need is your Alberta Student Number and a personal email address (not your school email address). Stop in at the office to get your ASN.
Visit: https://public.education.alberta.ca/PASI/myPass/welcome
Click on "Sign in with Education Account"
Enter your personal email address, and click "I'm new sign me up"
Fill out the remaining information. A PIN Access code will be mailed to you in about a week to allow you to complete the login process. Parents can create an account for themselves the exact same way.
If you need help with this, you are welcome to stop in at the office and we can help you set this up.
Enriched Academy Scholarship for CALM students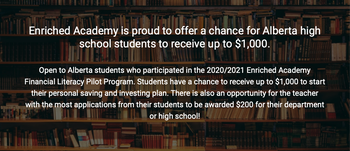 MacEwan Student Connections
The MacEwan University Student Recruitment Team has been hard at work adapting to provide new opportunities to connect with students. Two new offerings from MacEwan University include a virtual presentation (approximately 20 minutes outlining our programs and services with extra time available for questions at the end) and virtual one-on-one sessions. These sessions will be hosted through the online conferencing software Webex. Students may be required to download an app, but there is no need to create a personal account. Presentations can accommodate up to 20 students and will have two recruiters online to work with students. During one-on-one sessions, students will be able to book 30 minute time slots with recruitment advisors. To ensure confidentiality for students, we will utilize a private online meeting space and students will be placed in a digital lobby until their appointment begins. If you are interested in having a presentation in your virtual classroom, setting up a time for one-on-ones, or if you have any questions please email recruiters@macewan.ca
CONCORDIA UNIVERSITY INFORMATION
VIRTUAL OFFICE DROP IN!
Things will be different but we are prepared and committed to providing the support you need and amazing engagement opportunities for students.

Stop by our virtual office! Starting September 21, drop in anytime each Monday and Friday from 12:00 pm to 4:30 pm and a member of our recruitment team will be there to field any questions from students, parents or counsellors.

https://zoom.us/j/98128009078
Concordia Virtual Tours
While we cannot showcase our campus in person right now, we hope you will enjoy taking a spin around campus on your desktop!

In one of the points of interest there are instructions on how students can enter to win a free Concordia Hoodie! 
Check it out!
Attention Aboriginal Students!
CANNABIS INFORMATION SHEET FOR PARENTS!
https://www.albertahealthservices.ca/assets/info/pf/if-pf-drugsafe-cannabis-parents-caregivers.pdf
High School Math Courses Explained!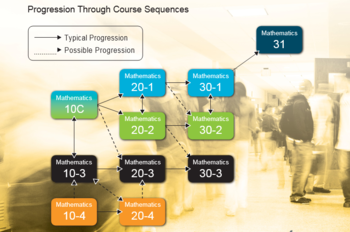 Math 10C is Math Common. This is the Math course that is required for Math 20-1 and 20-2.  Both are UNIVERSITY LEVEL MATH COURSES.
Take Math 20-1 if you are interested in:
Math
Science
Medicine
Engineering
Business
Kinesiology
Take Math 20-2 if you are interested in:
Arts
Nursing
Fine Arts
Education
Physical Education
Take Math 20-3 if you are interested in:
Most Certificate programs
Most Diploma programs
Trade programs
You have 5 other courses to submit to a Degree program for admission