Counsellor Information
CREDIT CHECK - Do YOU have your MY PASS account?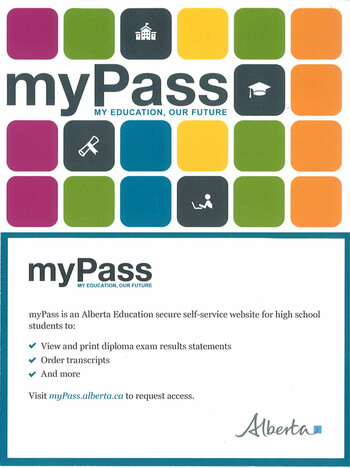 Students - make sure you have your My Pass account set up, especially our Grade 12 students. You will be able to view your diploma exam marks in your My Pass Account mid-February.
It's also important for all grade 10-12 students to monitor credits and course enrollments to ensure there are no errors.
To set up your account, all you need is your Alberta Student Number and a personal email address (not your school email address). Stop in at the office to get your ASN.
Visit: https://public.education.alberta.ca/PASI/myPass/welcome
Click on "Sign in with Education Account"
Enter your personal email address, and click "I'm new sign me up"
Fill out the remaining information. A PIN Access code will be mailed to you in about a week to allow you to complete the login process. Parents can create an account for themselves the exact same way.
If you need help with this, you are welcome to stop in at the office and we can help you set this up.
4 H Scholarship
SUBJECT:  Elmer & Ona Hansen Memorial Scholarship - $80,000 in scholarships available for rural high school students
Hello,
A gentle reminder, the Elmer and Ona Hansen Memorial Scholarship application closes June 30, 2022 at Noon.  Please see below for more information on the scholarship.  
4-H Alberta inspires, educates, and develops outstanding rural and urban youth, future leaders, and engaged citizens. Supporting ambitious youth who pursue higher education through scholarships is a big part of 4-H Alberta's commitment to youth. We are recognized as the most impactful youth leadership organization in Alberta.
The Elmer and Ona Hansen Memorial Scholarship is open to all Alberta rural youth and is designed to help rural farm youth who must leave home to pursue a post-secondary education or trade. The following scholarship amounts will be awarded in 2021:
• One scholarship: $20,000 • One scholarship: $15,000• One scholarship: $10,000• Seven (7) scholarships at $5,000 each
This scholarship may or may not be applicable to the students at your school, however, we wanted to ensure the opportunity was communicated to as many eligible students as possible. Please note a rural farm youth is defined as a youth who has lived on a farm in Alberta for the majority of their life and the farm is the primary source of family income.  These scholarships are designed for youth who may not have the opportunity to attend post-secondary without financial support.  
If you know of students living in rural areas who plan to leave home and pursue post-secondary education, we hope you will pass this information along so that they do not miss out on these exceptional scholarship opportunities.

Student Eligibility/How to apply: 

Must be enrolled as a first year student at an acknowledged post-secondary institution and not have previously started or completed a post-secondary program
Must be an Alberta rural farm young person
Must have graduated from high school have received their high school diploma and be no older than 25 years of age.  A copy of their high school transcript or academic detailed report must be included with the application form
Must need to leave home to pursue a post-secondary education or trade.  Proof must be provided that the student is not living at home, i.e. through a rental or dorm receipt
A photo of the applicant must be submitted with the application.  The photo must be suitable for publication - a grad picture is ideal.  Photocopies or proofs are not suitable.  Quality scanned photos are acceptable
4-H experience is not mandatory to qualify for this award

The application for the Elmer and Ona Hansen Memorial Scholarship is open until June 30, 2021 at Noon with the application available on the 4-H Alberta website. To go directly to the application, please click here.
For more info you can reach us at 403.899.7030 or scholarship@4hab.com
Enriched Academy Scholarship for CALM students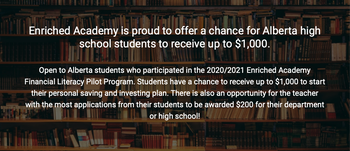 Scholarship List
Electronic Recycling Association 
https://www.electronicrecyclingassociation.ca/2021-era-scholarship/
Apply for the LEAD Program
The Leaders in Equality Award of Distinction (LEAD) Program is now accepting applications from students eager to make a difference in their communities. The new program is supporting students who are working to reduce gender discrimination in their communities or who are studying in fields where their gender is traditionally under-represented. Each successful applicant will receive $2,500.The scholarship program consists of two funding streams:
a previously announced Women in STEM Award stream, which is open to women under 30 years of age pursuing studies in science, technology, engineering and mathematics, and


the Persons Case Scholarship stream, for anyone pursuing studies to advance gender equality.  
Consolidating the Women in STEM award and the Persons Case under the LEAD program streamlines the application process for students and reduces red tape.The first intake deadline for the scholarship is Feb. 21.Those who are interested in applying can visit the program website to find the scholarship criteria and application information.Quick facts
Total funding for the program is $225,000.
Up to 40 students will receive $2,500 each in the Persons Case Scholarship stream.
Up to 50 students will receive $2,500 each in the Women in STEM stream.  
Delta Kappa Gamma Education Grant - Delta Kappa Gamma is a society of educators who promote professional and personal growth and excellence in education. The local chapter, Eta, offers a grant of $500 for graduating students from EIPS or EICS who are planning to enter the field of teacher education. One grant will be awarded for applicants attending post-secondary in September 2020. For more information, check the Delta Kappa Gamma Grant. Deadline for submission is in June. 
CIBC Canadian Financial Education Challenge!
The Canadian Foundation for Economic Education (CFEE) is partnering with CIBC to give high school-aged youth (14-18) the opportunity to win $10,000*!
We are challenging Canada's youth to apply their creativity and skills to create new tools and resources to help other young Canadians improve their financial knowledge.
The My Money, My Future: Canadian Financial Education Challenge aims to apply a sense of fun and creativity to an important life skill – financial literacy.
Please note: The last day to register is March 15th, 2021 - the deadline for project submissions is April 16th, 2021.
Josephburg Ag Society Scholarship
Josephburg Ag Society Scholarship
The DOUG MASCHMEYER SCHOLARSHIP ~ $1000.00
In memory of our long time Director and volunteer, Doug Maschmeyer, we are offering a third, $1000 scholarship. Doug always took an active roll in his community. Lending a helping hand was his nature, he was a great mentor in his role as a 4-H leader.  Many a winter night he could be found selling 50/50 tickets at the local Josephburg Presents concert series. He would strike up a conversation, find something in common and end the visit with a few less tickets in his hand. Doug always had something positive to say, words of encouragement and a smile on his face. We put this scholarship forward in hopes of those who share Doug's love of community and mentorship will apply.
As of August 2018, Josephburg Ag Society is proud to sponsor THREE, $1000 scholarships for those seeking post secondary assistance.
Please read over the requirements carefully and submit information accordingly. Incomplete submissions will not be considered. Our committee is hard at work choosing once the deadline passes and successful recipients contacted before the end of the year.
Click on link below to download the form:
DEADLINE PENDING - MUST HAVE POST-SECONDARY ACCEPTANCE BEFORE APPLYING
MacEwan Student Connections
The MacEwan University Student Recruitment Team has been hard at work adapting to provide new opportunities to connect with students. Two new offerings from MacEwan University include a virtual presentation (approximately 20 minutes outlining our programs and services with extra time available for questions at the end) and virtual one-on-one sessions. These sessions will be hosted through the online conferencing software Webex. Students may be required to download an app, but there is no need to create a personal account. Presentations can accommodate up to 20 students and will have two recruiters online to work with students. During one-on-one sessions, students will be able to book 30 minute time slots with recruitment advisors. To ensure confidentiality for students, we will utilize a private online meeting space and students will be placed in a digital lobby until their appointment begins. If you are interested in having a presentation in your virtual classroom, setting up a time for one-on-ones, or if you have any questions please email recruiters@macewan.ca
CONCORDIA UNIVERSITY INFORMATION
VIRTUAL OFFICE DROP IN!
Things will be different but we are prepared and committed to providing the support you need and amazing engagement opportunities for students.

Stop by our virtual office! Starting September 21, drop in anytime each Monday and Friday from 12:00 pm to 4:30 pm and a member of our recruitment team will be there to field any questions from students, parents or counsellors.

https://zoom.us/j/98128009078
Concordia Virtual Tours
While we cannot showcase our campus in person right now, we hope you will enjoy taking a spin around campus on your desktop!

In one of the points of interest there are instructions on how students can enter to win a free Concordia Hoodie! 
Check it out!
Families of Veterans
Alexander Decoteau Award of Honour

The Alex Decoteau Award of Honour is a new award recognizing the sacrifice of Canada's brave veterans and their families and supports them in their post-secondary pursuits in Alberta. Valued at a one-time amount of $5,000, this award helps meet the Alberta Government's commitment to make it easier for Canadian veterans and their families to transition from service to the next steps in their careers. Up to 200 awards are available annually.Canadian Armed Forces members must be returning soldiers who:
actively served in designated military operations in the Canadian Armed Forces (Regular or Reserves), or


were permanently disabled as a result of participation in Canadian Armed Forces training in Canada.
Applicants who are family members must be spouses/common-law partners or children of Canadian Armed Forces soldiers who are deceased or permanently disabled:
while serving or as a result of a designated military operation, or
as a result of participating in Canadian Armed Forces training in Canada.
How to ApplyApplicants must submit the completed application form and all supporting documentation to Alberta Student Aid by October 31, 2020.For more information on eligibiltity and how to apply for the Alex Decoteau Award of Honour, visit:
Bursary Alert!
Please check the following website for details and application information for a new bursary.
http://www.boscofoundation.com/bursaries
12 Bursaries: 
$30,000.00 dollars annually.
$ 5,000.00 x 3
$ 3,000.00 x 3
$ 1,000.00 x 6
New deadline this year of June 30!
Apprenticeship Awards and Scholarships
Alberta Apprentice & Trainee Awards and Scholarships
The Alberta Apprenticeship and Industry (AIT) Training Board provides various scholarships to apprentices and occupational trainees every year.

To learn more, browse the AIT scholarships and awards listings at:


Rotary Club 2021 Scholarship Program
The Fort Saskatchewan Rotary Club will once again award two (2) scholarships in the amount of $1,000 each. One scholarship will be available for a student attending an accredited college or university, and one scholarship will be available for a student attending an accredited technical institute or trade school.
This annual scholarship is open to all graduating students from any Fort Saskatchewan high school. Students may apply in their graduating year or within one year of their graduation if they have chosen to upgrade and/or take a "gap year" prior to attending a post-secondary program. The application documents must be postmarked no later than July 30. Last year we had 2 winners from St Andre Bessette receive this prestigious scholarship!
"Over the years we have awarded many scholarships, and are pleased to assist students fund their post-secondary education," states Ted Griffiths, Rotary Club President.
Andy Polanski Leader of Tomorrow Memorial Scholarship
The Andy Polanski Charitable Foundation (APCF) is a non-profit society that was established in 2014 following the tragic passing of an exceptional young man, Andy Polanski. Comprised exclusively of volunteers, APCF remains committed to fulfilling the foundation's vision 'To make things better, not for ourselves but for everyone around us'. This vision is solely inspired by the sincere and generous personality of Andy, encompassing his many wonderful attributes and traits that left a mark on those who knew him and continues to inspire many. Andy was a young man with strong family roots, always ready to share in some fun and laughter, and a willingness to lend a helping hand. This resulted in Andy volunteering for many positions within his school and community while he completed his high school and post-secondary education goals.
The Andy Polanski Charitable Foundation (APCF) is very proud to offer a $1,000 scholarship to a Fort Saskatchewan high school student pursuing a post-secondary education who, in addition to completing their high school requirements, has been able to demonstrate the importance of giving back, therefore impacting others.
Attention Aboriginal Students!
CANNABIS INFORMATION SHEET FOR PARENTS!
https://www.albertahealthservices.ca/assets/info/pf/if-pf-drugsafe-cannabis-parents-caregivers.pdf
High School Math Courses Explained!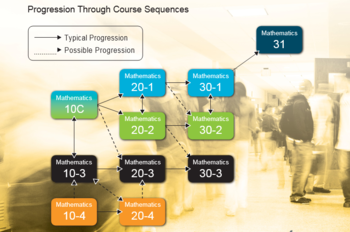 Math 10C is Math Common. This is the Math course that is required for Math 20-1 and 20-2.  Both are UNIVERSITY LEVEL MATH COURSES.
Take Math 20-1 if you are interested in:
Math
Science
Medicine
Engineering
Business
Kinesiology
Take Math 20-2 if you are interested in:
Arts
Nursing
Fine Arts
Education
Physical Education
Take Math 20-3 if you are interested in:
Most Certificate programs
Most Diploma programs
Trade programs
You have 5 other courses to submit to a Degree program for admission